Upcoming Shows
Past Shows
Sunnyvale
1031 Grand St, Brooklyn, New York 11211
Line-up / Andrew Yoon + Natalie[dot]Computer // Zach Krall + ColonelPanix // Dondadi + Ulysses Popple // Fascinated Ghost + Empty Flash // Leeps + Zach Krall
$10 Cover
Magnet at NYU Polytechnic School of Engineering 2 Metrotech, 8th Floor, Brooklyn, NY, 11201, Brooklyn, New York
LiveCode.NYC and Music Community Lab (Monthly Music Hackathon NYC) present a day exploring the intersection of live code, music/sonic art, visuals, and beyond.
Featuring talks and workshops from artists and creators of live code performance tools, as well as open time for discussion, hacking, collaboration, serendipity, and performance.
Sunnyvale
1031 Grand St, Brooklyn, New York 11211
Messica Arson + Elson
Scorpion Mouse + Georgio Nicolas
natalie[dot]computer + Johnlp.xyz
ColonelPanix + nom de nom
Paul Pham + s4y
Doors at 7, coders on at 8.
$10 Cover
1031 Grand Street, Brooklyn
2050 Music + Ulysses Popple
Messica Arson + Pixel Walter
Colonel Panix + EmptyFlash
Ioxi + Zach Krall
Paul Pham + s4y
$10 Cover
Scorpion Mouse,
Melody Loveless + johnlp.xyz,
Colonel Panic + emptyflash,
Sylvan Zheng + Zach Krall,
ayayay + Ulysses Popple
Cover is $10. Music starts at 8.
Sunnyvale
Sun May 27 08:00 PM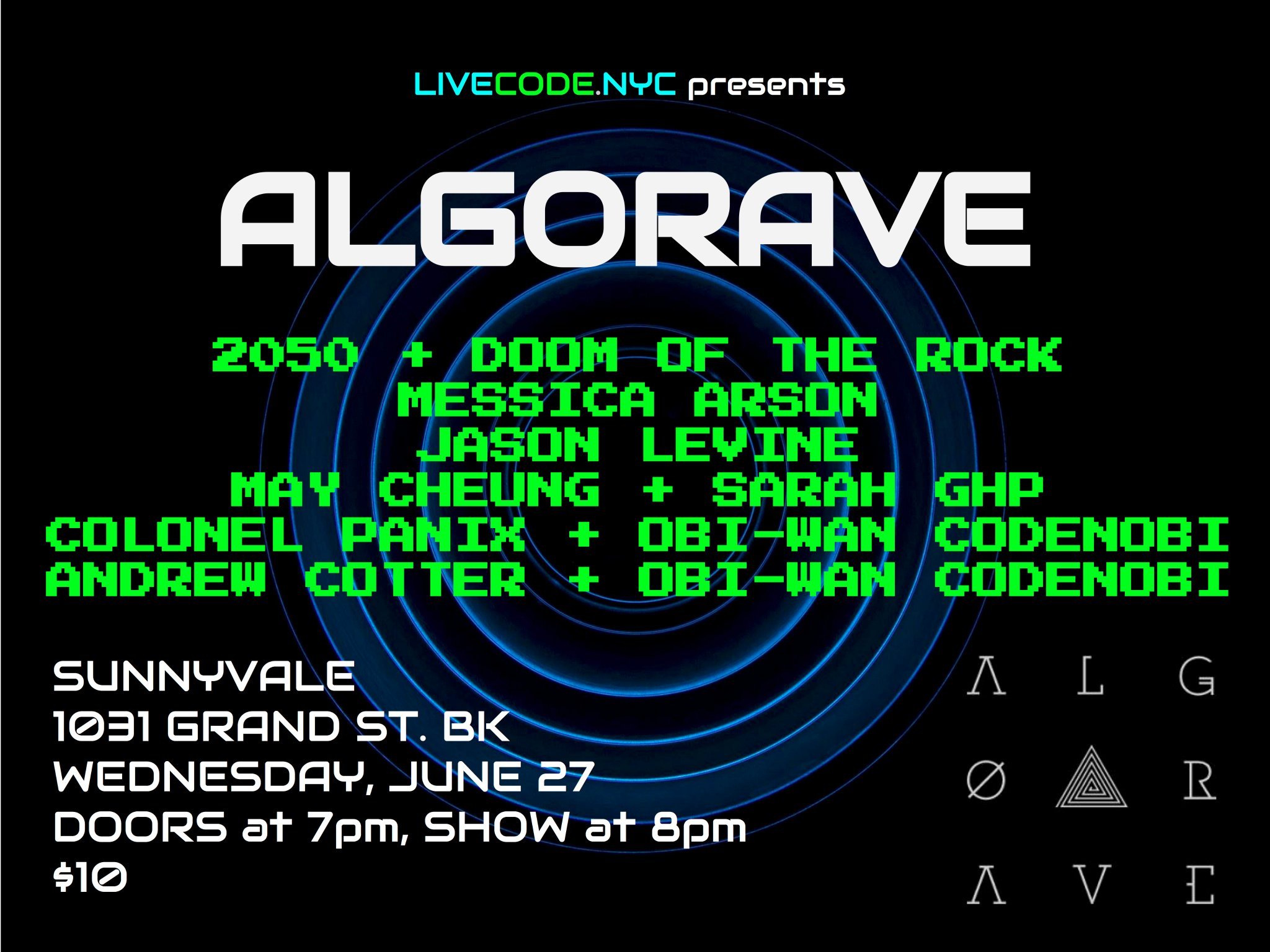 2050 + DOOM OF THE ROCK,
Messica Arson,
Jason Levine,
May Cheung + Sarah GHP,
Colonel Panix + Obi_Wan Codenobi,
Andrew Cotter + Obi_Wan Codenobi,
Cover is $10. Music starts at 8.